Home  » Parts and Accessories  » Engine/Drivetrain  » Engines: Complete and Parts P R I C E R E D U C E D ! NEWLY REBUILT BMW M3 S52 engine with S50 M3 Intake – Headers & Exhaust – […]
Home  » Parts and Accessories  » Engine/Drivetrain  » Engines: Complete and Parts
P R I C E R E D U C E D ! NEWLY REBUILT BMW M3 S52 engine with S50 M3 Intake – Headers & Exhaust – Clutch – Transmission:
Posted Dec 09, 2015 | Hits: 3351 | Stock No: #1436
$11,500.00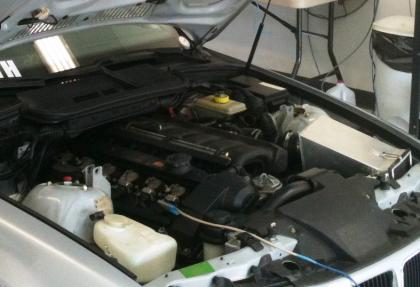 Ad Type: For Sale
Condition: New
Country: USA
Region: VA
City: Danville
Zip: 24541
Vehicle Make: BMW
Vehicle Model: E36 M3
Part Make: BMW – Rebuilt Motorsport Connections
Part Model: E36
Part Number: S52
Types of Payments Accepted:
Cash
Money Order
Paypal
Are you willing to accept trades?: No
Just REBUILT by Billy Revis, Motorsports Connections. Motor is currently on the engine stand ready for installation: new seals, gaskets, rod bearing set, main bearing set, Mahle BMW stock pistons, BMW connecting rods, ARP head stud kit, timing chain, oil pump, oil pump chain, Sunbelt Stage II performance cam, big bore throttle body, VAC 30lb injectors, BMW Stock M3 valve set, new double valve springs, titanium retainers and keepers. The block was decked, line bored, and honed. Included in the sale of the engine will be the stock BMW E36 M3 5 speed transmission with a JB Racing lightweight flywheel, JB Racing performance clutch, and Active Auto works stainless steel headers and full race exhaust. The last exact same build of this motor was dyno tested at 279 WHP & 236 FP Torque (See the video of laps in my car). The invoice for just the motor build was over $14,000.00, without the cam and other parts included! Active AutoWerks headers and exhaust was over $3,000.00 and NO LONGER AVAILABLE by AAW! Asking $11,500.00 for everything. Call Charles Haynsworth III 434-251-9093 or e-mail chaynsworth@opbizz.com.
« Back
Similar Ads
Bulletproof S50 (ARP, S54…
$3,800.00

HEADS

Off Season Deals
$1.00

EFS ENGINE METAL TREATMENT…
$15.95
Parts and Accessories | Brakes | Brake Pads | Brake Calipers | Brake Rotors | Brakes Everything Else | Suspension/Steering | Suspension Kits
Shocks | Springs | Anti Roll Bars | Bushings/Bearings | Control Arms | Camber Plates, Shock Mounts, Etc | Steering Racks and Components
Subframes | Electrical | Data Acquisition | Safety/Interior | Seats | Harnesses and Accessories | Fire Extinguishers and Accessories
Interior Race Accessories | Engine/Drivetrain | Transmission | Clutch | Differential | Driveshaft/Axles | Gearshift
Engines: Complete and Parts | Cooling | Fuel | Intake | Exhaust | ECU, DME, Software, Chips | Body/Aero | Aero | Body Panels
Strut Braces/ChassisReinforcements | Wheels/Tires | Wheels | Slick Tires | R Compound Tires | Everything Else | Race Parts
Street Car Parts (Interior, Body, Etc) | Shop Equipment | Lifts | Diagnostic Equipment | Welders | Power Tools | Hand Tools | Specialty Tools
Tire Machines | Everything Else | Racecar Setup Tools | Alignment | Scales | Pressure Gauges | Shock Dyno | Engine/Chassis Dyno
Spring Testers | Everything Else | Pit Equipment | Tool Carts | Fuel Carts | Tire Carts | Tow/Golf Carts | Canopies | Flooring (Kiwi Tile)
Radios | Everything Else | Driver Gear | Helmet and Head-Neck Restraints | Suits, Gloves, Shoes, etc | Driver cooling | Merchandise | Clothing
Memorabilia | Road Race Cars | NASA | Spec E30 and Spec 3 | GTS | 944 and 986 Spec | Honda Challenge | Performance Touring | Super Touring
Super Unlimited | Factory Five Challenge | American Iron | Camaro Mustang Challenge | Spec Z | Spec Miata | Rally | Everything Else
Time Attack | (FWD) Front Wheel Drive | (RWD) Rear Wheel Drive | (AWD) All Wheel Drive | SCCA | BMWCCA | ChumpCar | LeMONS | Porsche Club
IMSA/TUDOR | Pirelli World Challenge | Vintage-Classics (25+ years old) | Everything Else | Drag Race Cars | IHRA | NHRA
Drag Race Cars – Everything Else | Circle Track Cars | Asphalt Circle Track Cars | Dirt Circle Track Cars | Racecar Donors
Rolling Shells/Parts Cars | Salvage Cars | High Mileage Cars | Street/Specialty Cars | Trailers & Tow Vehicles | Light Duty Trucks/SUVs
Heavy Duty Trucks/Tractors | RVs | Single Car Trailers | Multiple Car Trailers | Trailer Parts and Accessories | Jobs/Services | Crew
Driver Coaching | Photography | Race Engineer | Race Technician | Helmet Painting | Race Car Rentals