Home  » Road Race Cars  » Everything Else Posted Jan 03, 2016 | Hits: 4492 | Stock No: #1492 $20,000.00 Ad Details Ad Type: For Sale Country: USA Region: NC City: willow spring Zip: 27592 Year: 1997 Vehicle Make: ford Vehicle […]
Home  » Road Race Cars  » Everything Else
Posted Jan 03, 2016 | Hits: 4492 | Stock No: #1492
$20,000.00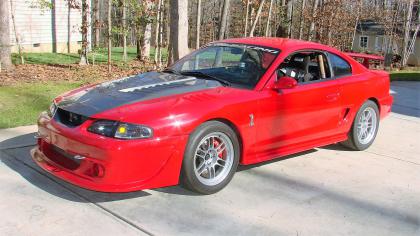 Ad Type: For Sale
Country: USA
Region: NC
City: willow spring
Zip: 27592
Year: 1997
Vehicle Make: ford
Vehicle Model: mustang
VIN: 1FALP47VXVF169471
Transmission: Manual
Fuel Type: Race Gasoline: >93 Octane
Types of Payments Accepted:
Cash
Are you willing to accept trades?: No
My priorities have changed and I'm getting out of HPDE events. It's never been raced, just HPDE events. My 97 cobra needs a good home.
The car has tons of upgrades on it and I hope I can remember all of them.
Suspension Maximum Motorsports
1. K-member
2. Front control arms
3. Bilstein struts and shocks
4. Hypercoil coil springs
5. Adjustable tie Rod
6. Steering shaft assembly
7. Torque arm
8. Rear lower control arm EVM
9. Watts link EVM
10. Caster/camber plates
Engine
1. Built motor by local shop
2. Has a balance rotating assembly
3. Squared the decks
4. Intake and Exhaust seat work
5. Bowl blend all intakes bowls
6. Blend intake runners
7. Back cut 16 intake valves
8. Surface cylinder heads
9. Micro polish crankshaft
10. Comp Cams
11. FR 500 Heads, CNC-Ported by Fox Lake
12. BBK twin 65MM throttle body
13. JIT cold air
14. AC eliminator kit
15. 160 Thermo
16. Intake been ported
17. Cooling mod on back of the head
18. Bigger radiator
19. Setrab oil cooler
20. The list go's on and on
Interior
1. Ultra-Shield driver seat
2. Corbeau passenger seat
3. Steer wheel is Sparco
4. All Ford Racing Gauges
5. 4-point roll bar
6. Kenny Brown rear brace
7. MGW short throw shifter and knob
Exterior
1. New Enkei Wheels
2. Tires are 275/40/17
3. StopTech brakes and Rotors in Front
4. Tiger Racing Hood
5. 3D Carbon Boy Wing
Other Item
1. Centerforce Clutch and pressure plate
2. Spintech mufflers with turn downs
3. Aluminum drive shaft with safety loop
4. Rear end has 3.55 gears in it
5. Ford Racing rear end cover
6. All fluids are Royal Purple brand
Just to much to list
The car putting to the wheels 385 power and 360 torque
I do have extra parts that will come with car
Asking $20,000 or best offer
« Back
Similar Ads

Pratt & Miller BMW M6 racecar
$175,000.00

m3 HPDE car
$6,999.00

2014 Radical RXC Coupe
$155,000.00

2015 Radical
$215,000.00
Parts and Accessories | Brakes | Brake Pads | Brake Calipers | Brake Rotors | Brakes Everything Else | Suspension/Steering | Suspension Kits
Shocks | Springs | Anti Roll Bars | Bushings/Bearings | Control Arms | Camber Plates, Shock Mounts, Etc | Steering Racks and Components
Subframes | Electrical | Data Acquisition | Safety/Interior | Seats | Harnesses and Accessories | Fire Extinguishers and Accessories
Interior Race Accessories | Engine/Drivetrain | Transmission | Clutch | Differential | Driveshaft/Axles | Gearshift
Engines: Complete and Parts | Cooling | Fuel | Intake | Exhaust | ECU, DME, Software, Chips | Body/Aero | Aero | Body Panels
Strut Braces/ChassisReinforcements | Wheels/Tires | Wheels | Slick Tires | R Compound Tires | Everything Else | Race Parts
Street Car Parts (Interior, Body, Etc) | Shop Equipment | Lifts | Diagnostic Equipment | Welders | Power Tools | Hand Tools | Specialty Tools
Tire Machines | Everything Else | Racecar Setup Tools | Alignment | Scales | Pressure Gauges | Shock Dyno | Engine/Chassis Dyno
Spring Testers | Everything Else | Pit Equipment | Tool Carts | Fuel Carts | Tire Carts | Tow/Golf Carts | Canopies | Flooring (Kiwi Tile)
Radios | Everything Else | Driver Gear | Helmet and Head-Neck Restraints | Suits, Gloves, Shoes, etc | Driver cooling | Merchandise | Clothing
Memorabilia | Road Race Cars | NASA | Spec E30 and Spec 3 | GTS | 944 and 986 Spec | Honda Challenge | Performance Touring | Super Touring
Super Unlimited | Factory Five Challenge | American Iron | Camaro Mustang Challenge | Spec Z | Spec Miata | Rally | Everything Else
Time Attack | (FWD) Front Wheel Drive | (RWD) Rear Wheel Drive | (AWD) All Wheel Drive | SCCA | BMWCCA | ChumpCar | LeMONS | Porsche Club
IMSA/TUDOR | Pirelli World Challenge | Vintage-Classics (25+ years old) | Everything Else | Drag Race Cars | IHRA | NHRA
Drag Race Cars – Everything Else | Circle Track Cars | Asphalt Circle Track Cars | Dirt Circle Track Cars | Racecar Donors
Rolling Shells/Parts Cars | Salvage Cars | High Mileage Cars | Street/Specialty Cars | Trailers & Tow Vehicles | Light Duty Trucks/SUVs
Heavy Duty Trucks/Tractors | RVs | Single Car Trailers | Multiple Car Trailers | Trailer Parts and Accessories | Jobs/Services | Crew
Driver Coaching | Photography | Race Engineer | Race Technician | Helmet Painting | Race Car Rentals