Home  » Road Race Cars  » Everything Else Posted Feb 29, 2016 | Hits: 537 | Stock No: #1648 $155,000.00 Ad Details Ad Type: For Sale Country: USA Region: TX City: Houston Zip: 77057 Year: 2014 Vehicle Make: Radical Vehicle Model: […]
Home  » Road Race Cars  » Everything Else
Posted Feb 29, 2016 | Hits: 537 | Stock No: #1648
$155,000.00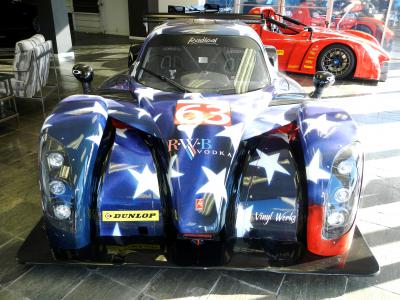 Ad Type: For Sale
Country: USA
Region: TX
City: Houston
Zip: 77057
Year: 2014
Vehicle Make: Radical
Vehicle Model: RXC Coupe
Mileage: 2500
Types of Payments Accepted:
Cash
Money Order
Paypal
Other
Are you willing to accept trades?: No
TEAM AUTOPLEX IS PROUD TO PRESENT THIS AMAZING 2014 RADICAL RXC COUPE WITH ONLY 2,500 MILES!!
PERFORMANCE:
Power: 350 BHP @ 6750rpm, Torque: 320 ft/lbs @ 4250rpm, Weight from: 935kg, Power to weight ratio: 374/tonne
Engine: Ford Cyclone V6 Ti-VCT, 24 valve 3700cc, DOHC twin independent variable camshaft timing, sequential multi-port electronic injection, plenum and drive-by-wire, catalytic converter exhaust system
Transmission: Bespoke 7-speed transverse Quaife gearbox with paddle shift and auto-blip
Chassis: High-tensile strength CDS carbon tubular steel spaceframe with FIA specification crash boxes front and rear
Body: Aerodynamic multi-piece composites and carbon sections, front and rear diffusers, full-width carbon bi-plane rear wing, gullwing doors with gas rams, full lighting system with LED daytime running lights
Fuel Tank: 70-litre foam filled aluminum tank: FIA fuel cell
Interior: Multi-function fully adjustable steering wheel, EPAS power steering, electronic adjustable and heated mirrors, air conditioning, single windscreen wiper, adjustable pedal box
Electronics: AIM MXL2 dash with data logging package, Custom Pioneer Bluetooth stereo with ESCORT 9500ci, Rear view camera
Suspension: Front and rear double wishbone, pushrods, bespoke inboard adjustable intrax dampers
Brakes: Fully-floating disc brakes with six-pot calipers front 330mm, rear 310mm
Wheels: Centre-lock cast alloyws front: 17 x 9.5, rear: 17 x 11.5
Dimensions: L 4300mm W 1960mm H 1127mm
Downforce: 900kg at max speed
*** TEAM AUTOPLEX OFFERS EXTENDED WARRANTIES & FINANCING OPTIONS. PLEASE CONTACT MICHAEL ROA FOR MORE INFORMATION AND A TEST DRIVE AT 832.347.8326! ***
TEAM AUTOPLEX INC.
5712 SW FREEWAY
HOUSTON, TEXAS 77057
713.789.0000 OFFICE
« Back
Similar Ads

2012 Mustang GT- TRACK READY
$22,000.00

For Sale: Ariel Atom Track Car
$35,000.00

For Sale: Ariel Atom 3…
$75,000.00
2011 Evo X Built Engine
$22,000.00
Parts and Accessories | Brakes | Brake Pads | Brake Calipers | Brake Rotors | Brakes Everything Else | Suspension/Steering | Suspension Kits
Shocks | Springs | Anti Roll Bars | Bushings/Bearings | Control Arms | Camber Plates, Shock Mounts, Etc | Steering Racks and Components
Subframes | Electrical | Data Acquisition | Safety/Interior | Seats | Harnesses and Accessories | Fire Extinguishers and Accessories
Interior Race Accessories | Engine/Drivetrain | Transmission | Clutch | Differential | Driveshaft/Axles | Gearshift
Engines: Complete and Parts | Cooling | Fuel | Intake | Exhaust | ECU, DME, Software, Chips | Body/Aero | Aero | Body Panels
Strut Braces/ChassisReinforcements | Wheels/Tires | Wheels | Slick Tires | R Compound Tires | Everything Else | Race Parts
Street Car Parts (Interior, Body, Etc) | Shop Equipment | Lifts | Diagnostic Equipment | Welders | Power Tools | Hand Tools | Specialty Tools
Tire Machines | Everything Else | Racecar Setup Tools | Alignment | Scales | Pressure Gauges | Shock Dyno | Engine/Chassis Dyno
Spring Testers | Everything Else | Pit Equipment | Tool Carts | Fuel Carts | Tire Carts | Tow/Golf Carts | Canopies | Flooring (Kiwi Tile)
Radios | Everything Else | Driver Gear | Helmet and Head-Neck Restraints | Suits, Gloves, Shoes, etc | Driver cooling | Merchandise | Clothing
Memorabilia | Road Race Cars | NASA | Spec E30 and Spec 3 | GTS | 944 and 986 Spec | Honda Challenge | Performance Touring | Super Touring
Super Unlimited | Factory Five Challenge | American Iron | Camaro Mustang Challenge | Spec Z | Spec Miata | Rally | Everything Else
Time Attack | (FWD) Front Wheel Drive | (RWD) Rear Wheel Drive | (AWD) All Wheel Drive | SCCA | BMWCCA | ChumpCar | LeMONS | Porsche Club
IMSA/TUDOR | Pirelli World Challenge | Vintage-Classics (25+ years old) | Everything Else | Drag Race Cars | IHRA | NHRA
Drag Race Cars – Everything Else | Circle Track Cars | Asphalt Circle Track Cars | Dirt Circle Track Cars | Racecar Donors
Rolling Shells/Parts Cars | Salvage Cars | High Mileage Cars | Street/Specialty Cars | Trailers & Tow Vehicles | Light Duty Trucks/SUVs
Heavy Duty Trucks/Tractors | RVs | Single Car Trailers | Multiple Car Trailers | Trailer Parts and Accessories | Jobs/Services | Crew
Driver Coaching | Photography | Race Engineer | Race Technician | Helmet Painting | Race Car Rentals