Home  » Road Race Cars  » Pirelli World Challenge Posted Nov 13, 2015 | Hits: 4094 | Stock No: #1383 $13,000.00 Ad Details Video Ad Type: For Sale Country: USA Region: WA Year: 2011 Vehicle Make: Mini Vehicle Model: Cooper Transmission: […]
Home  » Road Race Cars  » Pirelli World Challenge
Posted Nov 13, 2015 | Hits: 4094 | Stock No: #1383
$13,000.00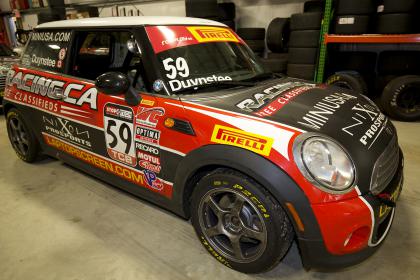 Ad Type: For Sale
Country: USA
Region: WA
Year: 2011
Vehicle Make: Mini
Vehicle Model: Cooper
Transmission: Manual
Fuel Type: Pump Gasoline: 87-93 Octane
Types of Payments Accepted:
Cash
Money Order
Are you willing to accept trades?: No
Racing.ca / Nixon Prosports 2011 Mini Cooper B-Spec race car is available for sale.
This is a fully developed front runing car. 2015 SCCA Pro Certified. During 2014 and 2015 was campaigned in the TCB class of the Pirelli World Challenge with 1 win, 3 second and 3 third places.
Built by Nixon Prosports in 2013 from a premium quality donor.
Here is the link opt this car build time lapse:
https://www.youtube.com/watch?v=LXRJEvV8JZg
B-Spec Kit from Mini of Charleston (the only legal kit)
KW Coil Over shocks
Adjustable Front Camber Plates 
Front and rear Adjustable Sway bar links
Steel braided brake lines
Carbo Tech Race Brake pads
OMP HTE seat
OMP Belts
OMP Fire system 
Quick Release Steering hub
B-Spec Legal Race Wheels 15×7, 13 pounds Kosei Racing
Race Keeper, Solo lap timer, transponder and radio not included.
604-329-7527
604-782-7035
In the attached video watch how Glenn Nixon won overall in the TCB Mini Cooper listed for sale here.
Andrei Kisel started 25th finished 2nd in Honda Fit.
Oct 10, 2015, Sports Car Club of BC, Closed Wheel 2 Race 1
« Back
Similar Ads

2012 B-Spec Honda Fit -…
$15,000.00

2007 B-Spec Mini Cooper -…
$17,000.00

SpeedSource Mazdaspeed 3…
$35,000.00

Chevrolet Camaro – Built by…
$149,000.00
Parts and Accessories | Brakes | Brake Pads | Brake Calipers | Brake Rotors | Brakes Everything Else | Suspension/Steering | Suspension Kits
Shocks | Springs | Anti Roll Bars | Bushings/Bearings | Control Arms | Camber Plates, Shock Mounts, Etc | Steering Racks and Components
Subframes | Electrical | Data Acquisition | Safety/Interior | Seats | Harnesses and Accessories | Fire Extinguishers and Accessories
Interior Race Accessories | Engine/Drivetrain | Transmission | Clutch | Differential | Driveshaft/Axles | Gearshift
Engines: Complete and Parts | Cooling | Fuel | Intake | Exhaust | ECU, DME, Software, Chips | Body/Aero | Aero | Body Panels
Strut Braces/ChassisReinforcements | Wheels/Tires | Wheels | Slick Tires | R Compound Tires | Everything Else | Race Parts
Street Car Parts (Interior, Body, Etc) | Shop Equipment | Lifts | Diagnostic Equipment | Welders | Power Tools | Hand Tools | Specialty Tools
Tire Machines | Everything Else | Racecar Setup Tools | Alignment | Scales | Pressure Gauges | Shock Dyno | Engine/Chassis Dyno
Spring Testers | Everything Else | Pit Equipment | Tool Carts | Fuel Carts | Tire Carts | Tow/Golf Carts | Canopies | Flooring (Kiwi Tile)
Radios | Everything Else | Driver Gear | Helmet and Head-Neck Restraints | Suits, Gloves, Shoes, etc | Driver cooling | Merchandise | Clothing
Memorabilia | Road Race Cars | NASA | Spec E30 and Spec 3 | GTS | 944 and 986 Spec | Honda Challenge | Performance Touring | Super Touring
Super Unlimited | Factory Five Challenge | American Iron | Camaro Mustang Challenge | Spec Z | Spec Miata | Rally | Everything Else
Time Attack | (FWD) Front Wheel Drive | (RWD) Rear Wheel Drive | (AWD) All Wheel Drive | SCCA | BMWCCA | ChumpCar | LeMONS | Porsche Club
IMSA/TUDOR | Pirelli World Challenge | Vintage-Classics (25+ years old) | Everything Else | Drag Race Cars | IHRA | NHRA
Drag Race Cars – Everything Else | Circle Track Cars | Asphalt Circle Track Cars | Dirt Circle Track Cars | Racecar Donors
Rolling Shells/Parts Cars | Salvage Cars | High Mileage Cars | Street/Specialty Cars | Trailers & Tow Vehicles | Light Duty Trucks/SUVs
Heavy Duty Trucks/Tractors | RVs | Single Car Trailers | Multiple Car Trailers | Trailer Parts and Accessories | Jobs/Services | Crew
Driver Coaching | Photography | Race Engineer | Race Technician | Helmet Painting | Race Car Rentals