Home  » Road Race Cars  » SCCA Posted Feb 24, 2015 | Hits: 7546 | Stock No: #0654 $89,999.00 Ad Details Ad Type: For Sale Country: USA Region: FL City: Pompano Beach Zip: 33069 Year: 2006 Vehicle Make: Porsche Vehicle Model: […]
Home  » Road Race Cars  » SCCA
Posted Feb 24, 2015 | Hits: 7546 | Stock No: #0654
$89,999.00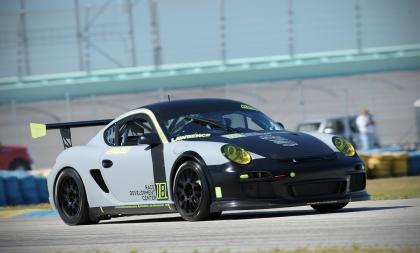 Ad Type: For Sale
Country: USA
Region: FL
City: Pompano Beach
Zip: 33069
Year: 2006
Vehicle Make: Porsche
Vehicle Model: Cayman S
Mileage: 44000
Hours on Chassis: 3
Hours on Engine: 3
Transmission: Manual
Fuel Type: Race Gasoline: >93 Octane
Types of Payments Accepted:
Cash
Money Order
Other
Are you willing to accept trades?: No
Forsale
2006 Cayman S Race Car. This car has been fully tested and ready to go. Below is a complete build list and I have data from when it was ran and tested at HMS.
Motor
3.6 Liter ( 3 Test Hours ) ( NEW CRATE MOTOR FROM A 997 )
Suspension
-Porsche Motorsport Cup Car 2-Piece Forged Control Arms ( Grand Am Spec )
-Porsche Motorsport Cup Car Steering Rack
-Porsche Motorsport Cup Car Front Tie Rods
-Porsche Motorsport Cup Car Rear Toe Kit
-Champion Motorsport Front Trailing Arm Kit
-Tarrett Rear Toe Locking Plate(s)
-Tarrett Front Bladed Sway Bar with Adjustable Drop Links
-Tarrett Rear Bladed Sway Bar with Adjustable Drop links
-Tarrett In cabin Sway Bar controls ( Front and Rear )
-MCS 2-Way Coilovers
-Tarrett Pillow mounts / Camber Plates ( Front and Rear )
-Eibach Springs ( Main Springs and Helpers )
-Genesis Spring Perches
Drivetrain
-Short Shift Kit
-Number Racing shift risers
-OS Giken LSD
-AASCO Lightwegiht Aluminum Flywheel
-Sachs Race Clutch and Pressure Plate
-RSS Clutch Stop
-RS1 Remote Clutch Bleeder Kit
-Wevo Motor Mount
-Wevo Transmission Mounts
Engine
-Porsche 3.6 Liter Motor
-EVOMSit Software ( 98 oct file )
-IPD Competition Plenum ( 82mm TB )
-Motorsport AOS
-FVD Motorsports OIL pan and Sump Kit
-Porsche 997 GT3 OEM TB
-Fabspeed Cold Air Intake
-A/C Delete
-Power Steering Removal
-BBI lightweight Crank pulley
-Lucas Fab Long Tube Headers
-Lucas Fab Race Exhaust
-OEM 997.2 CUP Car Front Radiator
-CSF aluminum side radiators
-2010+ OEM 997 Cup Radiator Inlet Ducts
Safety & Interior
1 3/4 inch Chromoly Roll Cage
-OMP 6 point harness
-Roll bar padding
-OMP HTE Race Seat
-Sparco Sliders
-Brey Kraus Base Mounts
-Planted Side Seat Mounts
-997 Cup Car Driver side Air Vent
-997 Cup Car Floor board
Brakes
-Pagid RS 29 Brake Pads ( Front and Rear )
-Stoptech Throphy Race Kit ( 380mm Front & 345mm Rear )
-997S Front Uprights to allow for 380mm Stoptech Kit
-OEM 997 GT3 Master Cylinder
-Motul RBF 660 Fluid
-RS1 Brake Cooling Ducts
-Porsche Cup Car Ducts
-996 GT2 Brake Booster
Electronics
-Motec C125 Track kit with Logging
-Porsche Cup Car Cut off switch / relay ( Interior and exterior cut off )
-Fuse Panel in cabin for all electronics
-Racing Radios PTT Radio Kit
Steering
-Porsche Motorsport Cup Car Steering Rack with steering locks
-Porsche Motorsport Cup Car Power Steering Kit with all OEM Lines and fittings
Wheels
CCW C 10 Set ( Green )
CCW c 14 Set with custom offsets ( Black )
MSI Studs and Nuts
Aerodynamics
Porsche Motorsport 997.2 Cup Car Front Bumper and Splitter
Porsche Motorsport 997.2 Cup Front Fenders with Flairs
Porsche Motorsport 997.2 Cup Front Hood with Naca Duct
Carbon Fiber Framed Doors
RS1 Uprights
Getty Wing Base
Getty Carbon Fiber 60inch Wing Blade
RS1 Lexan Side windows with Naca duct
« Back
Similar Ads

For Sale: 1995 BMW E36…
$39,500.00

2014 SCCA National Champion…
$40,000.00

2006 Mustang V-6 (SCCA T4)
$15,000.00

World Challenge GT /…
$88,999.00
Parts and Accessories | Brakes | Brake Pads | Brake Calipers | Brake Rotors | Brakes Everything Else | Suspension/Steering | Suspension Kits
Shocks | Springs | Anti Roll Bars | Bushings/Bearings | Control Arms | Camber Plates, Shock Mounts, Etc | Steering Racks and Components
Subframes | Electrical | Data Acquisition | Safety/Interior | Seats | Harnesses and Accessories | Fire Extinguishers and Accessories
Interior Race Accessories | Engine/Drivetrain | Transmission | Clutch | Differential | Driveshaft/Axles | Gearshift
Engines: Complete and Parts | Cooling | Fuel | Intake | Exhaust | ECU, DME, Software, Chips | Body/Aero | Aero | Body Panels
Strut Braces/ChassisReinforcements | Wheels/Tires | Wheels | Slick Tires | R Compound Tires | Everything Else | Race Parts
Street Car Parts (Interior, Body, Etc) | Shop Equipment | Lifts | Diagnostic Equipment | Welders | Power Tools | Hand Tools | Specialty Tools
Tire Machines | Everything Else | Racecar Setup Tools | Alignment | Scales | Pressure Gauges | Shock Dyno | Engine/Chassis Dyno
Spring Testers | Everything Else | Pit Equipment | Tool Carts | Fuel Carts | Tire Carts | Tow/Golf Carts | Canopies | Flooring (Kiwi Tile)
Radios | Everything Else | Driver Gear | Helmet and Head-Neck Restraints | Suits, Gloves, Shoes, etc | Driver cooling | Merchandise | Clothing
Memorabilia | Road Race Cars | NASA | Spec E30 and Spec 3 | GTS | 944 and 986 Spec | Honda Challenge | Performance Touring | Super Touring
Super Unlimited | Factory Five Challenge | American Iron | Camaro Mustang Challenge | Spec Z | Spec Miata | Rally | Everything Else
Time Attack | (FWD) Front Wheel Drive | (RWD) Rear Wheel Drive | (AWD) All Wheel Drive | SCCA | BMWCCA | ChumpCar | LeMONS | Porsche Club
IMSA/TUDOR | Pirelli World Challenge | Vintage-Classics (25+ years old) | Everything Else | Drag Race Cars | IHRA | NHRA
Drag Race Cars – Everything Else | Circle Track Cars | Asphalt Circle Track Cars | Dirt Circle Track Cars | Racecar Donors
Rolling Shells/Parts Cars | Salvage Cars | High Mileage Cars | Street/Specialty Cars | Trailers & Tow Vehicles | Light Duty Trucks/SUVs
Heavy Duty Trucks/Tractors | RVs | Single Car Trailers | Multiple Car Trailers | Trailer Parts and Accessories | Jobs/Services | Crew
Driver Coaching | Photography | Race Engineer | Race Technician | Helmet Painting | Race Car Rentals