Home  » Road Race Cars  » SCCA SOLD – 1997 VD Honda Formula F With Trailer, Spares, and Tools Posted Feb 10, 2015 | Hits: 3032 | Stock No: #0600 $35,000.00 Ad Details Ad Type: For Sale Country: USA Region: VA […]
Home  » Road Race Cars  » SCCA
SOLD – 1997 VD Honda Formula F With Trailer, Spares, and Tools
Posted Feb 10, 2015 | Hits: 3032 | Stock No: #0600
$35,000.00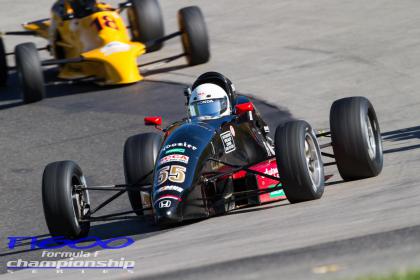 Ad Type: For Sale
Country: USA
Region: VA
City: Sterling
Zip: 20164
Year: 1997
Vehicle Make: Van Diemen
Vehicle Model: RF97k
VIN: N/A
Mileage: 1500
Hours on Chassis: N/A
Hours on Engine: Unknown
Transmission: Manual
Fuel Type: Pump Gasoline: 87-93 Octane
Spares List: See Above
Types of Payments Accepted:
Cash
Are you willing to accept trades?: No
THIS ITEM HAS BEEN SOLD
Selling my 1997 VD Honda Powered FF. I converted the car from an FC to a FF and documented the process in my blog which can be found at rayphillips.blogspot.com. There aren't many cars that you can buy where you can see the entire build process! Plus I posted about some of my experiences with the car. I may not stop racing altogether but I'm not interested in being an owner and performing all the maintenance on the car anymore so I'm listing almost everything as a package deal. The perfect buyer is someone who is looking to get into a FF from scratch or from another car class/series. If I can't find a buyer for the package then I will sell everything piecemeal but I definitely won't sell the trailer separately unless the buyer doesn't want it. A few pictures are shown below in the ad but a complete set of pictures can be found at http://s1200.photobucket.com/user/rphillips555/library/RF97VD%20Things%20To%20Sell
The frame of the car was modified by Eric Langbein to accept the Honda engine. The engine has 1,646 miles. Has Penske 3 way adjustable shocks. Ceramic coated exhaust. Has ICP 20 calipers on the front and aluminum LD19 calipers on the rear. The fuel cell has a surge tank to prevent air from getting sucked into the fuel pump when it gets low on fuel. It has a LD200 transmission. The airscoop was custom made by me (the third iteration) and the data shows that it works really well which has recently been substantiated by an independent test on a flow bench. Here is a listing of what comes with the car:
AIM EV04 Data System with two front wheel speed sensors, front and rear brake pressure sensors, steering sensor, 4 shock sensors using pots that I made, fuel temp, all of the data that you get from having the Honda ECU with the optional harness such as throttle, oil pressure, oil temp, water temp, etc. Plus I will throw in all of the Math Channels and User Profiles that were developed by me and John Block.
More than just one complete set of A-Arms and pushrods: LF: 1 lower, 2 upper, RF: 2 lower, 1 upper LR: 1 lower, 2 upper, RR: 1 lower, 2 upper Other: 5 front push rods, 6 rear push rods, 4 rear toe links, 1 front toe link, 1 rear sway bar link, 1 axle, 2 rear suspension mounting brackets, 4 rear braces for the rear bracket
14 Panasport Ultralight Wheels.
Mounted Tires (kept in bags in the basement): 2 front 3 heat cycle 45Bs, 1 set of 1 heat cycle 35As
Unmounted Tires (kept in bags in the basement): 1 rear 7 heat cycle 45B, 1 rear 6 heat cycle 45B, 1 rear 3 heat cycle F1600 (same construction as 45Bs), 2 Front 3 heat cycle 45Bs
1 spare nose
2 crush boxes
1 set of paddock wheels
1 Longacre Setup Pad
Intercomp 10 X 10 Scales (Note: the setup pad is made for 15" scales but I was able to make these work)
2 uprights – 1 universal and 1 with a hub but both need bearings
2 upright studs for bottom of upright
Misc. upright hardware
2 tripod bearings
Various aluminum upright/suspension mounting blocks
Front and rear camber shims
2 axle boots
1 axle plunger
2 sets of Hawk Blue brake pads (Front & Rear)
2 sets of KFP Purple pads (Front & Rear)
Brake Pad Shims for front ICP Calipers
27 gear sets with 5 dog rings
Gear changing tray
2 5 gallon fuel jugs with funnel
1 fuel sampling hose
1 Nitrogen bottle, regulator, hose, shock pressure tool
1 set of small stands
1 set of large stands
1 bump steer gauge
3 master cylinders
1 used mirror
1 used spare radiator
1 new fuel pump
1 spare custom centerlock wheel cone with nut (wheel cones on car had to be specially made for Panasport wheels)
1 cone air filter from HPD
1 quick lift
Toe bars
1 ART digital ride height gauge
1 trammel bar
1 overheated engine that needs head repair or replacement. Unfortunately I had a water line come off and the head got warped. But it looks like the head can be milled and if not it can be replaced. My plan was to eventually buy the necessary parts from HPD and give it to Quicksilver so that they could blueprint it and make it a complete engine again. It does come with all the parts that ended up being duplicate after a bought the engine in the car – such as a starter, fuel injectors, spark plugs, etc. The engine has about 1,200 miles on it.
1 1997 20 ft Timberline trailer with a work bench, cabinets, and mounting brackets. 2 folding tire racks. I replaced the floor due to it having water damage and covered it with Herculiner truck bed liner – no slip in the rain and when oil gets spilled. I sealed the roof to prevent water from getting in. I'll include the halogen flood lights as well.
The only thing this car needs is new belts. Radios have been removed but they certainly aren't needed.
Asking $35k. Email me at fvee5 at Hotmail.com with offers or questions.
Thanks,
Ray
« Back
Similar Ads

COBRA SVT – GTIII
$25,000.00

Chuck McKinney's 2014 SCCA…
$58,500.00

SPO 1955 FORD
$39,900.00

2010 BMW M3 For Sale
$70,000.00
Parts and Accessories | Brakes | Brake Pads | Brake Calipers | Brake Rotors | Brakes Everything Else | Suspension/Steering | Suspension Kits
Shocks | Springs | Anti Roll Bars | Bushings/Bearings | Control Arms | Camber Plates, Shock Mounts, Etc | Steering Racks and Components
Subframes | Electrical | Data Acquisition | Safety/Interior | Seats | Harnesses and Accessories | Fire Extinguishers and Accessories
Interior Race Accessories | Engine/Drivetrain | Transmission | Clutch | Differential | Driveshaft/Axles | Gearshift
Engines: Complete and Parts | Cooling | Fuel | Intake | Exhaust | ECU, DME, Software, Chips | Body/Aero | Aero | Body Panels
Strut Braces/ChassisReinforcements | Wheels/Tires | Wheels | Slick Tires | R Compound Tires | Everything Else | Race Parts
Street Car Parts (Interior, Body, Etc) | Shop Equipment | Lifts | Diagnostic Equipment | Welders | Power Tools | Hand Tools | Specialty Tools
Tire Machines | Everything Else | Racecar Setup Tools | Alignment | Scales | Pressure Gauges | Shock Dyno | Engine/Chassis Dyno
Spring Testers | Everything Else | Pit Equipment | Tool Carts | Fuel Carts | Tire Carts | Tow/Golf Carts | Canopies | Flooring (Kiwi Tile)
Radios | Everything Else | Driver Gear | Helmet and Head-Neck Restraints | Suits, Gloves, Shoes, etc | Driver cooling | Merchandise | Clothing
Memorabilia | Road Race Cars | NASA | Spec E30 and Spec 3 | GTS | 944 and 986 Spec | Honda Challenge | Performance Touring | Super Touring
Super Unlimited | Factory Five Challenge | American Iron | Camaro Mustang Challenge | Spec Z | Spec Miata | Rally | Everything Else
Time Attack | (FWD) Front Wheel Drive | (RWD) Rear Wheel Drive | (AWD) All Wheel Drive | SCCA | BMWCCA | ChumpCar | LeMONS | Porsche Club
IMSA/TUDOR | Pirelli World Challenge | Vintage-Classics (25+ years old) | Everything Else | Drag Race Cars | IHRA | NHRA
Drag Race Cars – Everything Else | Circle Track Cars | Asphalt Circle Track Cars | Dirt Circle Track Cars | Racecar Donors
Rolling Shells/Parts Cars | Salvage Cars | High Mileage Cars | Street/Specialty Cars | Trailers & Tow Vehicles | Light Duty Trucks/SUVs
Heavy Duty Trucks/Tractors | RVs | Single Car Trailers | Multiple Car Trailers | Trailer Parts and Accessories | Jobs/Services | Crew
Driver Coaching | Photography | Race Engineer | Race Technician | Helmet Painting | Race Car Rentals