Home  » Road Race Cars  » NASA  » Spec Miata Posted Dec 01, 2014 | Hits: 5433 | Stock No: #0376 $11,500.00 Ad Details Ad Type: For Sale Country: USA Region: CA City: Topanga Zip: 90290 Year: 1992 Vehicle Make: Mazda […]
Home  » Road Race Cars  » NASA  » Spec Miata
Posted Dec 01, 2014 | Hits: 5433 | Stock No: #0376
$11,500.00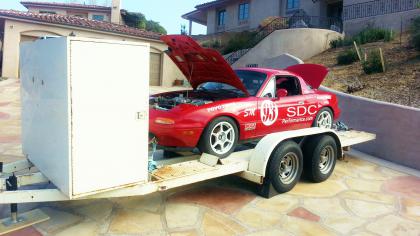 Ad Type: For Sale
Country: USA
Region: CA
City: Topanga
Zip: 90290
Year: 1992
Vehicle Make: Mazda
Vehicle Model: Miata
VIN: JM1NA3511N130309
Mileage: 100
Transmission: Manual
Fuel Type: Pump Gasoline: 87-93 Octane
Types of Payments Accepted:
Cash
Are you willing to accept trades?: No
This car raced for about 5 years in CalClub. It passed all inspections so you know it has everything required to race in SCCA or NASA (roll cage, seat with belts, fire extinguisher, kill switch, suspension mods, etc.). I had Tri Point Engineering check her out and and run on a dyno. She pulled 110 hp without doing any doing any advanced tuning. More time on a dyno to really dial in timing, gas flow/pressure, etc. should get her up to as much legal horsepower as anyone else. Everything is in very good condition. In addition to the Toyo's on it now, I will include 4 new, unused Toyo's mounted on used rims. This is a turnkey sale so it includes a very functional 22′ trailer, dual axle with 4 nearly new, 8 ply trailer tires. It also has a locking box, useful for carrying tools and parts. And it includes load levelers for keeping the trailer straight behind you (as opposed to ?). I think there is a lot of value here in the components but also in putting it all together to be race ready. I am asking $11,500. Everything is in Topanga, CA. Call or txt Dan at (310) 867-0005. You won't be disappointed.
« Back
Similar Ads

1991 Spec Miata
$6,500.00
Spec Miata
$23,500.00

1999 spec Miata
$28,000.00

1992 Spec Miata Race Car…
$8,900.00
Parts and Accessories | Brakes | Brake Pads | Brake Calipers | Brake Rotors | Brakes Everything Else | Suspension/Steering | Suspension Kits
Shocks | Springs | Anti Roll Bars | Bushings/Bearings | Control Arms | Camber Plates, Shock Mounts, Etc | Steering Racks and Components
Subframes | Electrical | Data Acquisition | Safety/Interior | Seats | Harnesses and Accessories | Fire Extinguishers and Accessories
Interior Race Accessories | Engine/Drivetrain | Transmission | Clutch | Differential | Driveshaft/Axles | Gearshift
Engines: Complete and Parts | Cooling | Fuel | Intake | Exhaust | ECU, DME, Software, Chips | Body/Aero | Aero | Body Panels
Strut Braces/ChassisReinforcements | Wheels/Tires | Wheels | Slick Tires | R Compound Tires | Everything Else | Race Parts
Street Car Parts (Interior, Body, Etc) | Shop Equipment | Lifts | Diagnostic Equipment | Welders | Power Tools | Hand Tools | Specialty Tools
Tire Machines | Everything Else | Racecar Setup Tools | Alignment | Scales | Pressure Gauges | Shock Dyno | Engine/Chassis Dyno
Spring Testers | Everything Else | Pit Equipment | Tool Carts | Fuel Carts | Tire Carts | Tow/Golf Carts | Canopies | Flooring (Kiwi Tile)
Radios | Everything Else | Driver Gear | Helmet and Head-Neck Restraints | Suits, Gloves, Shoes, etc | Driver cooling | Merchandise | Clothing
Memorabilia | Road Race Cars | NASA | Spec E30 and Spec 3 | GTS | 944 and 986 Spec | Honda Challenge | Performance Touring | Super Touring
Super Unlimited | Factory Five Challenge | American Iron | Camaro Mustang Challenge | Spec Z | Spec Miata | Rally | Everything Else
Time Attack | (FWD) Front Wheel Drive | (RWD) Rear Wheel Drive | (AWD) All Wheel Drive | SCCA | BMWCCA | ChumpCar | LeMONS | Porsche Club
IMSA/TUDOR | Pirelli World Challenge | Vintage-Classics (25+ years old) | Everything Else | Drag Race Cars | IHRA | NHRA
Drag Race Cars – Everything Else | Circle Track Cars | Asphalt Circle Track Cars | Dirt Circle Track Cars | Racecar Donors
Rolling Shells/Parts Cars | Salvage Cars | High Mileage Cars | Street/Specialty Cars | Trailers & Tow Vehicles | Light Duty Trucks/SUVs
Heavy Duty Trucks/Tractors | RVs | Single Car Trailers | Multiple Car Trailers | Trailer Parts and Accessories | Jobs/Services | Crew
Driver Coaching | Photography | Race Engineer | Race Technician | Helmet Painting | Race Car Rentals